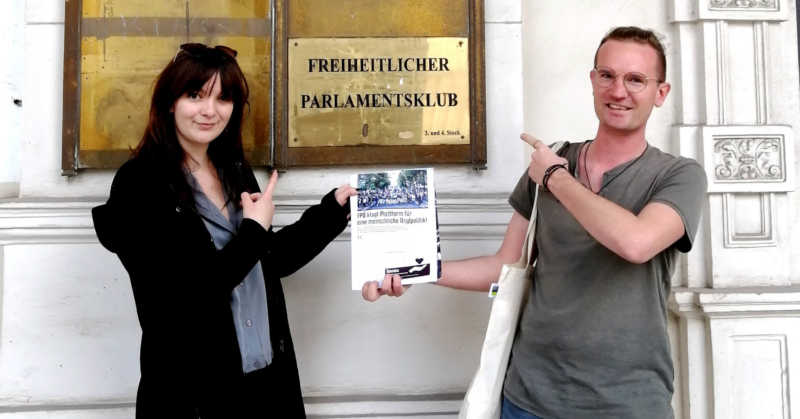 The FPÖ parliamentary club has sued us, the Platform for a Humane Asylum Policy. Allegedly because we used a photo of club leader Herbert Kickl on our Facebook page. This kind of political intimidation has a system. Let's finance the lawsuit together. Our goal: 10,000 euros. Please donate to our account:
IBAN: AT58 2011 1843 6694 6100
BIC: GIBAATWWXXX
Inhaberin: Plattform für eine menschliche Asylpolitik
Reference: Klage
We will not be silenced. The FPÖ parliamentary club has sued us for an alleged copyright infringement. We had used a screenshot from Kickl's Facebook page to advertise our anti-fascist protest against the FPÖ takeover of the Corona demonstrations. In it he announced, "I will leave the narrow walls of parliament." A dangerous threat when a far-right parliamentary party calls for defensive resistance.
For weeks, neo-Nazis have been spreading fear and terror on Vienna's streets. They intimidate passers-by, chant "Sieg heil!" in the Jewish quarter and attack journalists. They stormed the building of an insurance company from which – so anti-Semitic conspiracy theories claim – the "Jewish globalists" are pulling the strings in the corona pandemic. And the FPÖ has long since taken the lead over this far-right street movement.
Defending democracy
The Platform for a Humane Asylum Policy was one of the initiatives that identified this danger from the beginning. We will not allow this party to establish a street wing that terrorises refugees, Jews, Muslims and other groups. A party led by members of German nationalist fraternities who, as the renowned author Hans-Henning Scharsach writes, "have never broken away from the traditions of National Socialism".
The FPÖ club leader, who constantly rails against minorities, hides his political attack legally behind copyright issues. We are not afraid of political confrontation. Because we have a movement of solidarity behind us.
If you want to support us, we would be happy about your donation!
Note: If we win the case, we will use the earmarked donations to build up protests and events for a humane asylum policy.